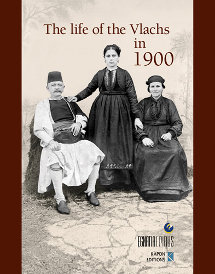 Our identity comes about not as an act of fate, but rather as a formless legacy. In every case, it is shaped by time and place. Bearing this principle in mind, we are broadening the scope of an initiative first taken by the Foundation of the Museum for the Macedonian Struggle in Thessaloniki and the researcher, Mr Asterios Koukoudis. It concerns the populations who first appeared in Byzantine times and who, according to contemporary sources, were referred to as "the Vlachs of Hellas".
Our initiative is necessary in order to expose attempts at the transformation, alteration, or indeed the fabrication of cultural features, and also any other departures from long-established Vlach traditions that might be put forward. We believe that such an approach at the present time would, apart from other things, explain the appearance of a Vlach or Aroumanian ethno-linguistic nationalism; particularly since this goes beyond post-modern theoretical questions and attempts to reshape itself into a political agenda. Such a contrivance, if indeed not part of any geo-political ploy, consciously serves economic and petty-political ambitions of either academics or self-appointed professional activists, in addition to all manner of self-seekers in Greece and elsewhere.
The EGNATIA EPIRUS Foundation recognises, promotes and underscores the cultural legacy of the Vlachs as an integral part of our country, and believes the time is ripe for more systematic research and for a clearer presentation of both their historical and present-day self-perception, as well as the current position of the Latin-speaking Romiosyni (Modern Greeks). The Foundation, in its desire to help a wider public understand the theoretical and practical issues, begins this initiative with a presentation of the multi-faceted Vlach identity (local, economic, social, demographic, cultural, etc.), as recorded by the photographic lens in the early 20th century. We feel both justified and proud of this undertaking because of its contribution to the correct interpretation and understanding of current-day Vlach identity.
Ioannis Averoff
Chairman of the Board
EGNATIA EPIRUS Foundation
click to view the full version of the publication (greek edition)