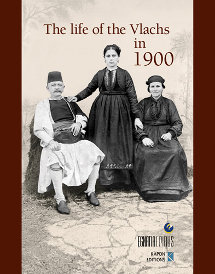 This book attempts a concise yet systematic presentation of the history and cultural identity of the Vlachs, using rare photographs that capture a variety of manifestations of the life of these non-Greek speaking communities at the beginning of the 20th century.
The work enriches the bibliography on ethnography and makes an important contribution to the interpretation and understanding of the modern identity of the Vlachs of Greece.
The book was published in collaboration with the Egnatia Epirus Foundation.
Format: 23.5×29.5 cm. Pages: 64
Illustrations: 226 colour, 12 coloured maps
Binding: paper back
ISBN: 978-960-7037-91-6 (Greek ed.)
ISBN: 978-960-7037-92-3 (English ed.)
Languages: Greek, English
Buy online